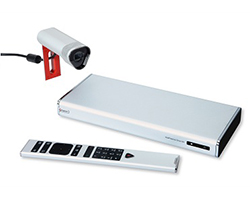 The Polycom RealPresence Group 300 is designed for use in small groups and features a compact design that is ideal for mobile applications as well as unobtrusive installation in any environment. Single cable connections allow for higher mobility and faster installation.
With standards-based compliance, the RealPresence Group 300 can communicate with users on other standards-based systems. The Group 300 also features interoperability with leading Unified Communications platforms, meaning that your video communications can become part of your business communications process seamlessly, and without expensive gateways. RealPresence Group 300 systems also offer TIP support, which enables connections to non-standards-based Cisco systems.
Simplified user interface
Polycom SmartPairing*
More realistic meeting experiences
Receive content in 720p 60 quality
Polycom People+Content IP application for easy content sharing
Interoperable SVC* to deliver a better experience even on bandwidth-limited networks
Efficient and small design
Digital connections for simple installation to displays and content sources
Group 300 720p with EagleEye Acoustic Camera Includes:
Polycom Group 300 Codec
Polycom EagleEye Acoustic camera with integrated microphone
Power supply
Cables
*Planned for future release.
Click link to download PDF file