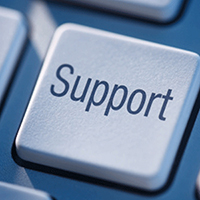 We believe supporting plays a big role in most business especially service provider and high-level technology related products. Therefore, a solid and attentive support is one of our major principle.
Our support covers from pre-sales to post-sales. Whether you are integrading your existing equipment with new products, such as integrating existing PABX with new SIP products, or building a entire new system from ground up. BST Solutions can help with its comprehensive array of products, services and suuport toestablish a more professional and efficiency environment.
Our engineer will first support via email or phone for trouble shooting, then we will escalate to remore access to monitor and pin point the problem if the clients allow us to do so. For major technical or hardware faulties, we will response with onsite support to solve the problems. Eliminating troubles and leaving our clients feelinghassle free are our top priority.