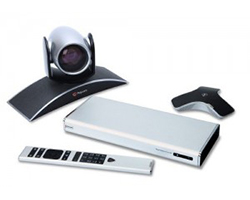 Polycom Group 500 720p with an EagleEye III camera is designed for use in conference rooms and delivers high performance and a simple user interface to experience an impressive collaboration session. IT administration will appreciate the compact design, broad interoperability and an exceptionally low total cost of ownership.
The Group 500 is also easy to install, due to single-cable connections and a smaller design that can be deployed in more areas. The Group 500 is standards-based, and allows for connection to the other standards-based video solutions, regardless of brand. Native interoperability with commonly used UC business platforms allow users to integrate the Group 500 into their communications process. RealPresence Group 500 features Telepresence Interoeprability Protocol support to allow for a direct connection to Cisco system that is not standards-based.
Breakthrough simple user interface and Polycom SmartPairing* so your employees can start collaborating instantly with their iPad
720p60 video and content collaboration heightens realism and speeds adoption
Supports the Telepresence Interoperability Protocol (TIP), which enables connection to non-standards-based Cisco systems
Interoperable SVC* delivers a great experience even on bandwidth-limited networks
Enjoy clutter-free conference rooms with the compact design and simple digital connections for displays and content sources
Enable more people to join calls, reducing dependence on separate conference bridges with 6-way SD multipoint and 4-way in 720p (Multipoint License Required)
RealPresence Group 500 720p with EagleEye III Includes:
Polycom Group 500 Codec
Polycom EagleEye III camera
Polycom Group microphone array
Power supply
Cables
*Planned for future release.
Click link to download PDF file